In line with the global trend and requirements, Madagascar is now adopting practices that favor traceability for agribusiness. Madagascar vanilla — the best in the world — has seduced multinationals and pioneers in the food and agricultural industry. They are now working on site to perfect the sector in order to make "Madagascar origin" vanilla a reference for quality, equity, sustainability, and ecology.
The fight against climate change requires joint actions encompassing changes in consumption and production patterns and overall management. In a global drive for change, the last decade has revealed a new type of consumption, as consumers have become more demanding about the origins of their products. In order to meet these requirements, producers and industries have adopted more responsible practices. The United Nations' 17 Sustainable Development Goals (SDGs)  have been established for that purpose, with particular focuses on three goals: the fight against inequalities, against exclusion and injustices, climate resilience, and ending extreme poverty.
SDG12: Sustainable Production and Consumption is being accompanied by measures developed by specialized bodies such as Fairtrade International. « Fairtrade carries out studies every year to establish the minimum price of vanilla, for a living income for the producer  » says Damiana Rasoavinjanahary, General Manager of Sahanala, a Malagasy company certified by Fairtrade, the most recognized ethical label in the world. Sahanala works with nearly 5,648 vanilla producers across the island.
Most consumers expect brands to commit now that the « buy to help » and « produce better to consume better » concepts are becoming trendy. In this context, the global market for certified organic food products has rapidly grown in two decades, worth more than USD 100 billion. Beyond offering « healthy » products to consumers, responsible agriculture also benefits more than 3.1 million farmers worldwide.
The vanilla sector in Madagascar sees a massive conversion towards responsible and traceable production. Leader in the world, Madagascar's vanilla has furthered its reputation thanks to its unique aromatic profile. However, quality is not enough; « customers are increasingly sensitive to ethics, » says Noeline Rasoamandrary, Founder of Vanilla Bridge, a French brand specializing in the export and development of a range of natural and personalized flavors of Madagascar's vanilla.
Vanilla becomes « terroir »
Originating in Mexico, Vanilla planifolia is so well adjusted in Madagascar's good pedoclimatic conditions that it has developed unique aromas, with hints of rum, balsamic, grape, and caramel. Malagasy vanilla does not owe this excellent aromatic profile to the rate of vanillin, but to a completely different quality that only our terroir can provide. « Other countries produce vanilla with a similar or even higher vanillin content than Madagascar; but they don't have that specific flavor of Madagascar vanilla, » says Rasoavinjanahary.
Successive generations of farmers backed with a certain level of know-how have developed the specificity of our « terroir vanilla » over time. « Such wealth of knowledge gives Madagascar an unparalleled advantage in exceptional vanilla production, » says Cynthia Esposito, vanilla flavor expert at giant Archer-Daniels-Midland (ADM), based in Madagascar and partner of Sahanala. By using self-developed fermentation techniques, Malagasy farmers managed to give vanilla a sort of typical and gourmet smoothness much appreciated by gourmets.
The quality of Madagascar vanilla has conquered millions of consumers and industries worldwide. The country now supplies a record 80% of the world's vanilla. Over the years, consumers have become more and more familiar with Madagascar vanilla, while recalling memories and emotions, such as succulent homemade dishes. According to ADM experts, nostalgia is a powerful tool to stimulate direct consumers' preferences and choices. Besides, the origin of the product alone is perceived as an invitation to a dream and travel destination.
Madagascar vanilla has almost become the world's favorite vanilla. On the artisans' side, Malagasy vanilla would be a symbol of luxury and rarity, in addition to its unique aroma. « For me, it's a personal choice, because it's my favorite! » said Olivier Onfroy, an artisan ice cream maker in Anjou (France). For this famous artisan, Madagascar vanilla ice cream is unbeatable and has remained the best-selling in his shop for years.
Traceability and environmental compliance
Regarding traceability, vanilla players in Madagascar have intensified their efforts to promote their sector. As sustainability only makes sense through traceability, technologies such as blockchain are used by Malagasy companies to trace vanilla throughout the value chain until it reaches the consumer. Those blockchain-based technologies — ideal for transparency and traceability — are available on smartphones, where field workers can record and store data in real time. At the end of the chain, the customer is only required to scan the QR code labeled on each product to know its origin, its treatment and fair production process, in a transparent manner.
Traceability is also part of the program implemented by the National Vanilla Council (CNV) to clean up and secure the sector, as well as to lobby for Protected Geographical Identification (PGI), and the standardization of production quality that respects precise specifications. The traceability of vanilla is not only advantageous for importers, but also ensures equity at the level of the early players in the chain, especially producers. « A vertically integrated and traceable supply chain partnership with our farmers is critical to maintaining this quality, » Esposito explains.
On the importers' side, being able to ensure a constant range of vanilla quality is essential. Hence, constant monitoring must be carried out from the vanilla plant, to the handling and drying of the pods. Aromatic precursors develop especially during the time of ripening and drying of the pods. If not properly treated, even good quality green pods may not meet the quality required for export. « Generally, quality vanilla beans have a vanillin of over 1.5% and a complex but well-balanced aroma profile free of any off notes », says Esposito. « To achieve this, consistent monitoring of quality must take place from the vine to handling and curing. A traceable and vertically integrated supply chain partnership with our farmers is crucial to maintaining this quality. »
In addition, the CNV is in the process of setting up marketing lobbying to establish a strategy to convince importers to use extracts with more than 0.1% vanillin. A higher rate will increase the demand and the export value on the Madagascar side, as well as the use of natural vanilla.
Agronomist experts and farmers can also share knowledge and inclusive agronomic practices in order to determine the best agricultural methods. Preserving the environment and the ecosystems surrounding the plantations is also integrated into the traceability of the product. For this, Malagasy vanilla producers use organic farming (non-use of chemical fertilizers, maintenance of soil fertility, optimal water management, …) and agroforestry, an ancestral agricultural method respectful for ecosystems. To keep agriculture as natural as possible, some producers even maintain vanilla plants that grow anywhere in the wild in the middle of tropical trees without using a specific cultivation plan.
Traceability ensures a decent income for producers
Consumers and importers are increasingly demanding traceability. At the same time, traceability is also a method to discover and understand the realities of producers. Recorded in real time, these realities provide an overview of what the producers experiences on a daily basis, and allow to assess the real value of their work.
Fairtrade International sets the annual price of vanilla (and many other agricultural products) based on the information gathered in the field to ensure a decent income for producers. They are paid premiums when working with exporters certified by the label.
« From our perspective, such models only work if farmers receive fair wages, processors get a return on investment, and end users have competitively priced products, » said Travis Green, Vice President of Business Development for ADM's Global Vanilla subsidiary. SAVAN, their joint venture with Sahanala would tick all these boxes and would therefore be an excellent model of sustainability.
On the other hand, the Malagasy Government is also working on an intensive formalization of the sector, as well as the application of a floor price for vanilla for export. The floor price not only does help to regulate the market, but is also calculated based on the average income and decent standard of living of vanilla producers. Since the application of this price for the 2021-2022 campaign, the country's export performance has improved, ranging from about 2,956 tonnes in 2018 to 2,975 tonnes in 2020.
A noble vanilla, symbol of luxury and refinement
An important point to note is, vanilla is not only intended for the agri-food industry. Madagascar vanilla is also sought-after by the luxury cosmetics and perfumery industry, for its unique aroma, its rarity but also its traceability. For instance, L'Oréal and Yves Rocher source their vanilla-scented cosmetics from Madagascar, and require traceable production at the level of producers. This means that traceability encompasses the development of producers' incomes, and the improvement of their living conditions at the social and environmental level, where production must in no way harm the native ecosystem.
On the side of haute couture perfumery, vanilla from Madagascar would be one of the most precious ingredients of high-end perfumery. For example, it can be found in « Vanilla Diorama » of Dior's private collection. A symbol of luxury and refinement par excellence, this fragrance was created as a tribute to the « Diorama gourmand », Christian Dior's favorite dessert, created and designed solely for the famous couturier. With this perfume, Dior Greedy, sensual, round and opulent, the perfumer perfectly demonstrates how noble, greedy, sensual, round and rich Madagascar vanilla is. Highly coveted and limited edition, Vanilla Diorama recalls a precious stone that has been cut to dazzle the senses.
Other perfumers such as Kenzo also put Madagascar vanilla in the spotlight in one of its flagship perfumes: « 05: 40 PM in Madagascar« , Giorgio Armani in « My way », or at Chopard.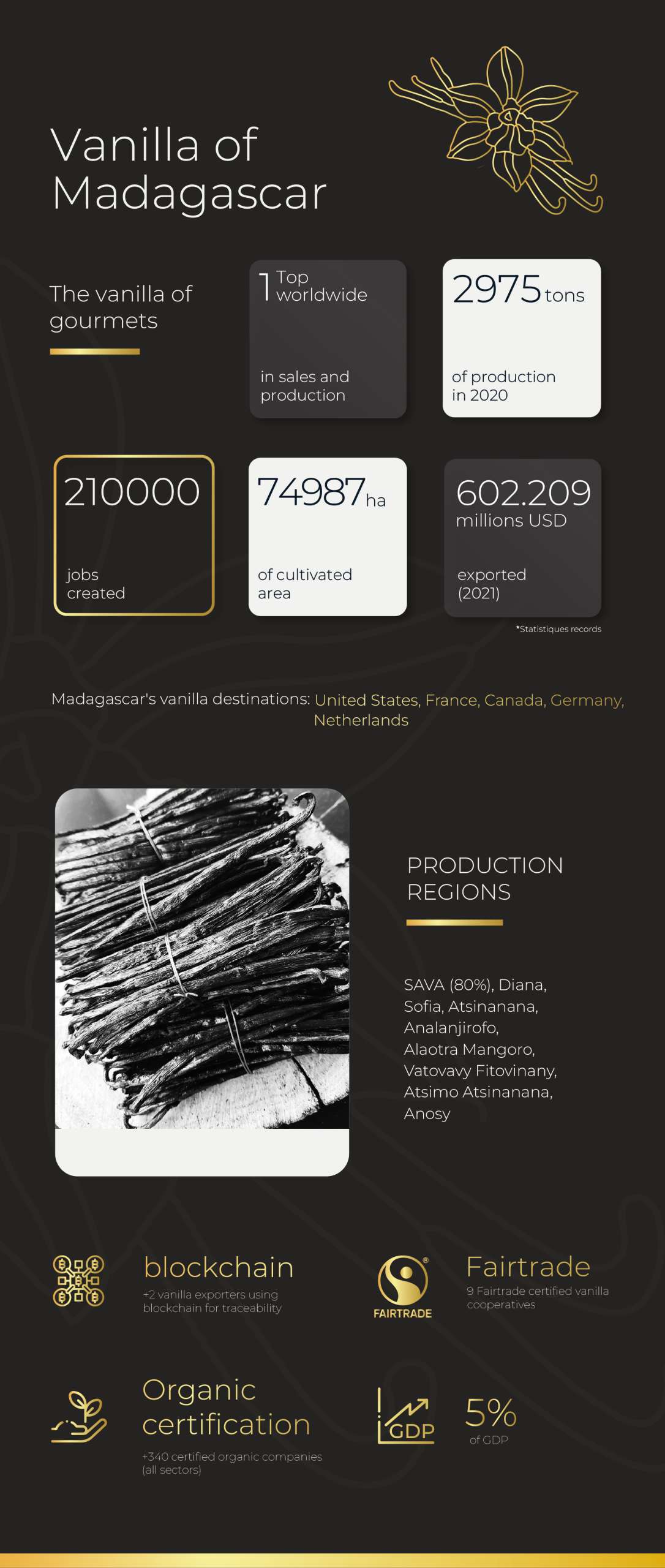 © EDBM/Sources : Trademap, Ecocert, Symabio, Fairtrade International