At the age of 29, determined, Omega Fidisoa Randrianantenaina (known as Omega), made the leap into the  Made For A Woman great workshop with her 300 sisters. With those eyes sparkling with intelligence she was gifted with, she sets the tone of her intervention by pulling out a line quite unusual for a young woman of her age: « It's not a dream; it's a goal, » she says of what she would like to do later.
Despite her parents' unconditional love, Omega had a difficult childhood. Due to a lack of means, she had to drop out of school — like her older brother — in college, like many other girls in her school. To help support the family, her mother taught her crocheting when she was 16. Together, they were able to make money from sewing and crocheting and make ends meet for the whole family.
In Madagascar, a large majority of the population lives below the poverty line, and many parents are forced to introduce their children into the labour market at a very young age. « I used to hold a grudge against my parents, but as I grew up, I came to understand them, » Omega said. « I understood how difficult life can be sometimes."
« School wasn't for me anyway, » she says with humor. Omega was one of those, like Einstein, whose full extent of intelligence could not be encompassed by academic success. Chances are, unconsciously, her condition has forged an incredible ability to adapt and allowed her to succeed where few would have dared. Growing up, the young girl became a woman and acquired some independence that is rare at her age.
Chosen by Made For A Woman
In 2018, Omega's mother's crocheting friends told her about Made For A Woman. She tried her luck because she was tired of odd jobs that barely allowed her to make ends meet. As a social enterprise, the brand auditions its artisans not only according to their talent and motivation, but also according to their situation. Eileen Akbaraly herself (the founder) visits women in their homes to get an idea of how difficult their daily lives are, and assess their needs.
Like Omega, the women selected by Made For A Woman mostly have a difficult, sometimes even violent past. Uneducated and marginalized by society, they are even more struggling finding jobs which require at least a bachelor's degree.
The company found the real gem with Omega. "Omega is the smartest!"  Eileen qualifies her. Leaving home every morning at seven o'clock to join the workshop, she stood out from the crowd by her talent and rigor, and is one of the 22 lucky ones working all year round for the brand. In addition, at Made For A Woman, craftswomen are partly paid for the number of hours devoted to each piece. "I like it when there's more work because it means there's more money to make, » says Omega.
« In addition, I learned new techniques. Before, I only knew crocheting, today I know braiding and making macramé« .
Life-changing
Working in a demanding profession of luxury brand, Omega now makes real pieces of artwork that the Mediterranean jet set loves. Perfectionist and savvy, she sometimes takes five days to make some pieces. With an incomparable motivation, she sometimes even brings work home and stays up until 10 p.m. « I do it because I want to earn the trust that is placed in me. »
With her hands, Omega makes golden and real pieces of art that are very popular among the Mediterranean jet set. © Made For A Woman
Her hard work completely changed her life. In less than five years at Made For A Woman, Omega reaped the rewards of her hard work and was able to make enough savings and buy land outside the city. For her age, and for a young woman in Madagascar, this is an incredible achievement.
If not long ago, her mother regretted having made her work too early, Omega is today her greatest pride. The little girl who once dreamed of joining the national police force was promoted in record time to supervisor at Made For A Woman, but still brings handbags home to make. "Another year to wait and I would have my own home."
« If I could share a message to other young people of my age, I would tell them that work is not a game."
Made For A Woman : ethical and sustainable fashion and luxury
Like other biggest luxury brands, designs by Made For A Woman were recently highlighted during the latest Milan Fashion Week, a major first for 100% Made-in-Madagascar items. This is another consecration after the 'Best Commitment' trophy  at the 74th Cannes Film Festival, thanks to its documentary titled 'The Raphia journey'.
For the love of fashion and Madagascar, the island where she grew up, Eileen Akbaraly created in 2019, Made For A Woman: a Malagasy brand of luxury and entirely handmade raffia accessories. One of the pieces presented at the Milan Fashion Week is a raffia dress, decorated with Italian silk and more than 1,000 precious stones, giving a spectacular result. The dress required seven weeks of work and involved nearly 60 Malagasy artisans.
Designed in Italy, the most complex showroom accessories require more than three weeks. "I want the world to know the value of Malagasy manual art, because it's very rare to find it anywhere else, » says Eileen.
As a social enterprise, the brand is committed to offering marginalized women opportunities, empowering them in an equitable and fulfilling environment. In addition to being paid 81% above the Malagasy minimum wage, each of these women enjoys many benefits such as language trainings, medical cares, productivity bonuses, etc.
Today, consumers are more concerned about the origin of what they buy, and seek both authenticity and respect for the environment. Each Made For A Woman design is stamped with portraits of those who made it (with a QR code to scan), to awaken emotions in consumers through the stories of these courageous artisans. "Today people want to buy to help. And storytelling is very popular." In addition, the products are designed from the smallest fiber to packaging and shipping. The raffia, of a quality specific to Madagascar, is fairly produced. The pigment is certified « AZO free », and the packaging is made of authentic "Antaimoro » paper.
The brand is totally transparent in the price of its items, and ensures both the salaries of its women artisans. They purchase ethical raffia up to four times the price on the market, buys metal material in Italy to ensure its durability. Made For A Woman only produces to order with a « slow fashion » perspective, and pays additional fees to shipping companies to offset its carbon footprint. The rest of the profit is dedicated to communication and marketing as well as to operational costs of the workshop (water, electricity, canteen, etc.).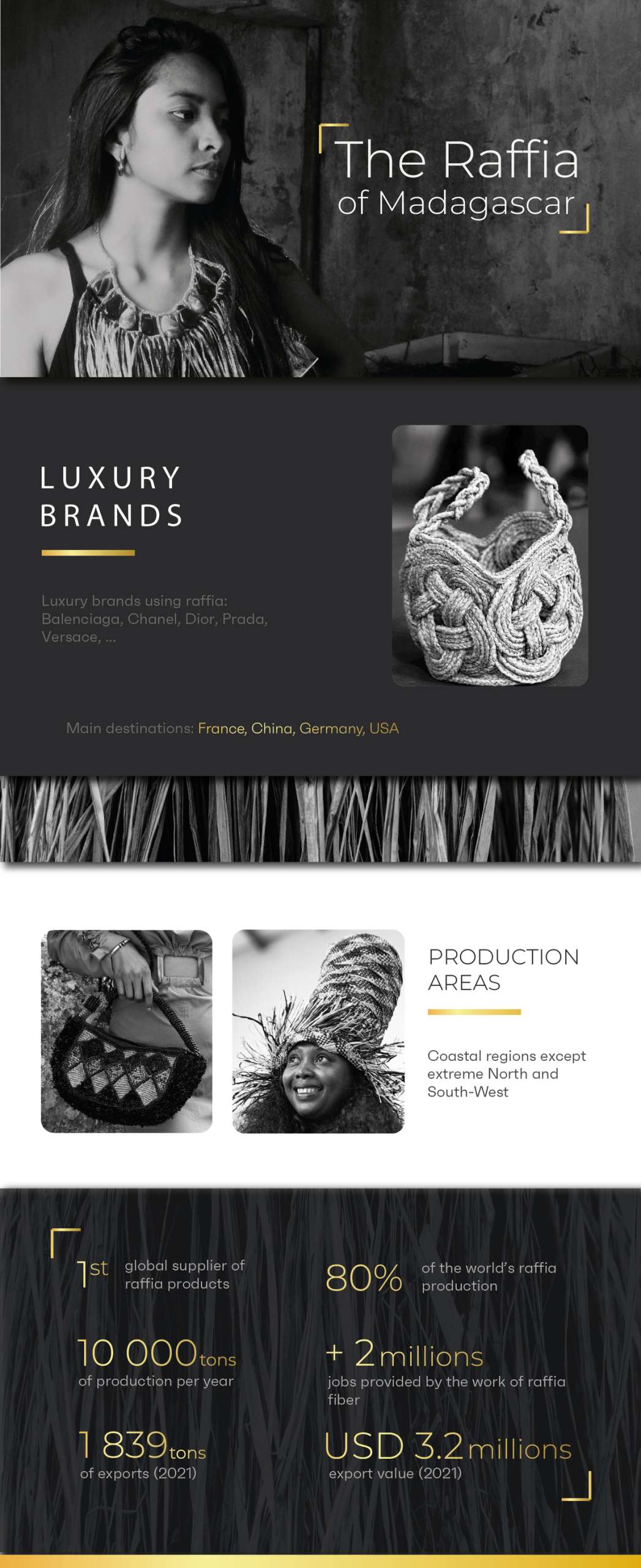 © EDBM/Source : Trademap