The Companie du Miel has brought the Malagasy honey into the demanding world of high gastronomy. It is locally present in the cuisines of Chef Lalaina Ravelomanana. Crossing the island borders, it conquered tables and windows of the Lenôtre house in Paris and Astrance, both three Michelin stars, and the Passage 53 in Paris, two Michelin stars. The Grande Épicerie of Paris, the Olivier Roellinger's restaurants, the Cafés Richard…are also lining up.
13 tons of lychee, jujube, eucalyptus, niaouli, rosewood and mokarana (Macarang cf. obovata), are sent to Europe, the Middle East and Asia, especially Japan, per year. Tasted by elite members of jury at the prestigious « Épicures de l'épicerie fine », the honey of the Compagnie du miel has been awarded medals two years in a row. In the category « Honey and spreads », the lychee honey won the gold medal. As for the honey of niaouli, it obtained a silver medal in the « Spreadable and sweetened » category.
« There were more than sixty participants from all over the world in the contest. Niaouli honey is quite complex in terms of taste. The jury was composed of top gastronomy chefs in France. We were extremely proud that the honey suits their taste. » states Gaël Hankenne.
Created by Gaël Hankenne of Belgian origin, Olivier Carbon and Thibaut Lugagne Delpon of French origin and, Haingo Rakotobe of Malagasy origin, the Compagnie du Miel was born in Madagascar in 2017. Working in an ethical and inclusive approach, they value the richness of Madagascar's biodiversity through their gastronomic honey with unique aromas.
Biodiverse and ethical honey.
Amazed by the beauty of Madagascar and its single biodiversity, the founders of Companie du Miel have exclusively focused their project on the biodiversity of the Red Island. "Madagascar can offer an outstanding quality of honey. That is why we chose it. In addition, the island means adventure, with extraordinary vegetation." Gael Hankenne says. « We are among those who have fallen in love with Madagascar." He adds.
Thanks to the endemic mellifluous forests, such as the "mokarana" or mangrove, Madagascar can offer unique honey in the world. A genuine image that the island can reflect. To guarantee the pureness of their products, the Companie du Miel undertakes extensive research to select villages with a high density of mellifluous species. Fairly isolated areas with non-organic farming practices are equally needed. Harvesting monofloral honey, such as the lychee golden medalist, and the niaouli silver medalist requires exact geolocation before installing hives
Their objective is also to provide an income-generating activity for the economic development of the rural communities with a profitable strategy for the environment. After initial free training, the company participates also in the pre-financing of hives and beekeeping materials. The beekeepers are shortlisted and assisted daily for maximum traceability and a quality standard imposed by the European Union. Such an approach adds value to the work of artisanal beekeepers.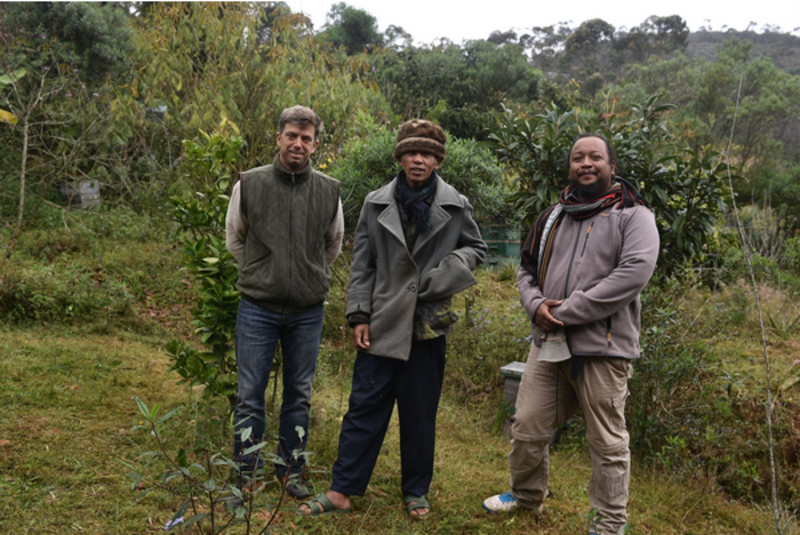 With a view of proximity and traceability, the Companie du Miel team gets out into the field to harvest the honey with the beekeepers and all the technical equipment. That rules out the simple collection system, which involves leaving the beekeeper to work on his products on his own to sell them directly.
"What we are doing and looking for is assistance and collaboration. We work and collect together products before purchasing." explains the technical manager at the Compagnie du Miel, Christian Randrianavosoa.
« I am not trying to give them any credit, but I have never worked with anyone as professional as them in my decade of experience." testifies Jean-de-Dieu Rakotoarimalala, a beekeeper partner of the company, . Thanks to the company's development method, a beekeeper lives above the poverty line with 20 hives and integrates the medium class with 50 hives.
Except for Anjepy, the company has other sites in Ambanja, Anjozorobe, and in the eastern zone of Manakara. The young company has a bright future ahead of it with the organic certification it will get very soon.
On a cold and foggy morning in June, in the small village of Anjepy, 40 km from the capital, Jean-de-Dieu Rakotoariamalala (known as Jean-de-Dieu), a fifty-year-old beekeeper has been up for hours. Live wire and cheerful, he does not spare himself to pamper his hives. "You are not the first to come and visit me. I used to be asked by researchers and engineers how to do things. Ironic, isn't it?" He affirms with a sense of humor.
Father of two girls and two boys and now grandfather, he has created an entire business from his bees, all this without attending university. Entirely self-taught, he learned everything by observing his parents and grandparents, beekeepers as well. "When we want something, we have to give it your all". He says.
In a friendly atmosphere that smells of honey and wax, Jean-de-Dieu shares his incredible journey and secrets of his success, which has bright prospects through the Compagnie du miel's ethics, his main partner.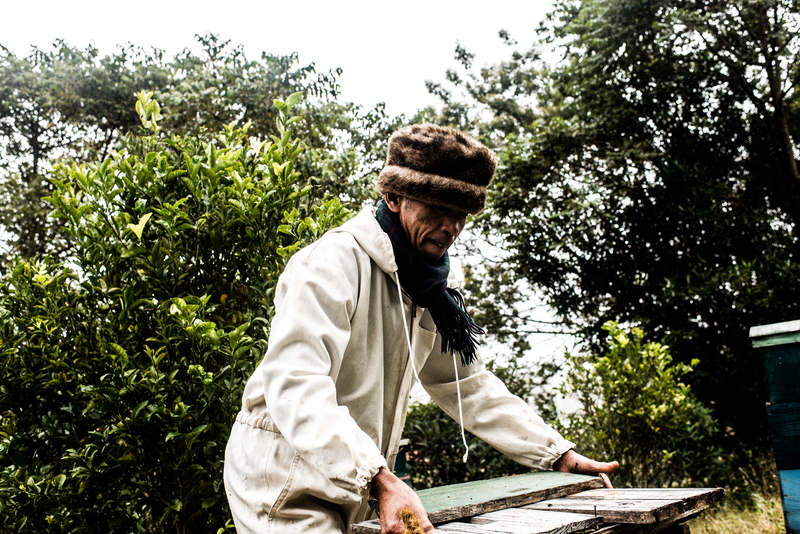 Revelation
The rural town of Anjepy has been known for generations for its honey. A small mountain town surrounded by vast eucalyptus forests; beekeeping has become a signature. Generations of beekeepers have succeeded one another since the roaring twenties when mead was produced there.
In 1998, business was booming and beekeeping paid off in a big way. The eucalyptus forests were teeming with nectar and the bees were producing honey with a unique aroma. Enough to light up children's eyes. It was a great way for Jean-de-Dieu to jumpstart although he had no experience at the time. « I was fascinated and I gave it a try. » He says.
A few years later, an opportunity came up for Jean-de-Dieu who realized a childhood dream thanks to beekeeper training offered by Razakarimanana Ferdinand, the President of the Special Delegation (PDS) at that time. « This program enabled me to acquire technical basics" Climbing the ladder, he was identified following the Support Project for Rural Development (SPRD).
Particularly motivated and passionate, he benefited from very advanced beekeeping training thanks to the assistance of a foreign expert for three months. « In my opinion, it was mainly thanks to this that I was able to become a real professional in beekeeping. He was a hard worker, as long as we weren't performing well enough, he wouldn't let us go. »
PHOTO
Surrounded by eucalyptus forests, the village of Anjepy has been known for generations for its honey.
A perfectionist at heart
With acquired dexterity and strength of character, Jean-de-Dieu enthusiastically took up all the challenges he encountered. A perfectionist at heart, he does not hesitate to travel to Toamasina, more than 300 km from his home, to look for quality wax himself.
This opportunity allowed him to meet new people in the province to develop his business. He is always looking for people he can trust and always wants to go further in his business, "he told me about equipment and procedures for making the wax on site."
In the spirit of a wise entrepreneur, he borrowed money to invest in professional materials. He bought a mold for a honeycomb wax base, a larger extractor, compliant sieves, etc., one of which would be worth the price of a small car! « I had to work day and night to pay my debts and cover these expenses."
As a skilled technician, Jean-de-Dieu shows Christian Randrianavosoa how to move a queen and create a new hive.
Return on investment
Drawing strength from his meticulous nature and his ambitions, the patriarch has become a true subject of admiration in his village. He has even earned the respect of public figures. « Anjepy's honey is famous all over the world, » he proudly proclaims.
Trainer and modern beekeeper in possession of a hundred hives, he currently has more customers than he could hope for, in addition to his fruitful collaboration with the Compagnie du Miel. The result of a great entrepreneur's journey, his success, is the pride of the whole village of Anjepy. People come from all over the country to learn professional beekeeping from Jean-de-Dieu.
Thanks to the inclusive and sustainable strategy of the Compagnie du Miel, the mellifluous businessman can now be proud that he no longer needs another job to compensate. With his 100 hives producing up to 10 kg of honey per harvest and the prices offered by the company, this farmer is well into the Malagasy middle class in terms of income, if not more.
Owner of one of the nicest farms in the area, a motorcycle, and state-of-the-art beekeeping equipment, this great enthusiast does not intend to stop there. He has invested in a plot of land to install more hives. He is even among the only ones to have electricity in a town where there was none before. « One day I plan to buy an even bigger extractor. And why not a car for my deliveries in town? » says the visionary.