Dior, Chanel, or Hermes …. These major haute couture houses have put their trust in the Malagasy textile industries for their ready-to-wear products.  An important part of the country's economic and industrial fabric, the garment industry in Madagascar has currently become a real Eldorado for the largest brands.
A sector with high economic potential, the textile and clothing in Madagascar account for 19.35% of GDP. Moreover, the share of textiles in the country's total exports in 2019 was respectively 69%, 60%, and 64% during the first and the second quarter of 2020.  Textiles are among the five priority sectors providing jobs and foreign currencies. It is also the largest employer of labor after agriculture.
Malagasy know-how and top names
The Haute couture's minutiae are recognized as an art form in their own right and designed to make one dream.  More than a matter of costs, the "fairy fingers" of large luxury houses are now found in Madagascar. Human capital is one of the main strengths of Madagascar's textile industry. With an almost innate artistic skill, Malagasy crafts people's talent impresses the whole world. They are fast and easy to train in new techniques. Commitment and entrepreneurial spirit are one more asset to attract large amounts of Foreign Direct Investment (FDI).
In haute couture, embroidery is exclusively manual. The Malagasy craftsmen create true masterpieces.
Feathers, embroideries, draperies, sequins … are all high-precision works mastered by Malagasy hands and highly prized by luxurious brands. Hand embroidery is an ancient practice that plays an important role in the Malagasy culture and is passed down from generation to generation. Building on this heritage, Malagasy craftspeople sublimate rich fabrics with Lunéville embroidery, lace embroidery, English embroidery, leather embroidery, hooks, smocks, macramé, forks, weavings, bouris, white embroidery, Venice days…
Meticulous on pieces requiring hours of work, Malagasy embroiderers are highly appreciated by the greatest haute couture houses. Known for generations for their prestige, these brands are relocating their production to the Malagasy textile industry.
Recognized as meeting international standards, local companies within this sector have their CSR label "confirmed." Focused on a sustainable development ethic, the textile sector in Madagascar promotes Malagasy human capital. In addition, ecological and technological solutions are central to the Malagasy textile industry's concerns. Testifying to this desire for improvement, many Malagasy factories are using Juki Corporation machines which are a world reference as far as textile industry technologies are concerned.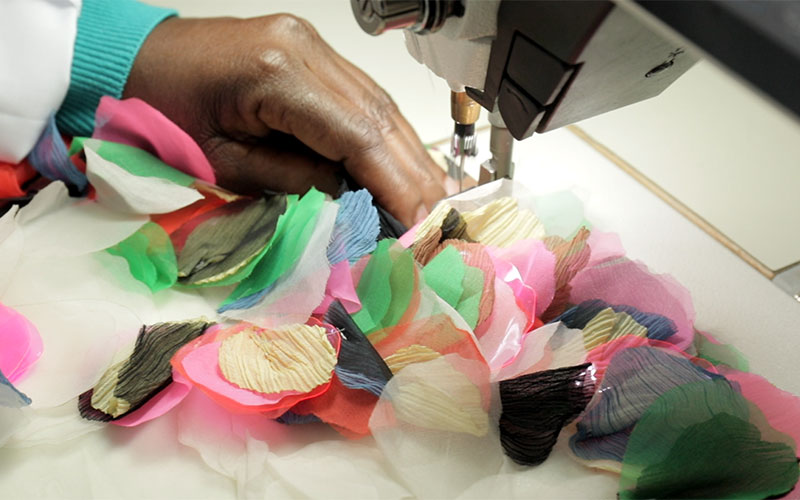 A talent that stands out in mind.
Malagasy talent is exported all over the world and is getting into higher realms. Smock, the best evidence of this talent, is an art of sewing that has become a real wealth of the Malagasy heritage. This art is also very appreciated by royal heads. Thanks to these pretty smock dresses which mark the early childhood of all little girls in Madagascar, Monique Ramahay, has pleasantly left a lasting impression on everyone's spirits.  Indeed, this Malagasy designer dressed princesses Charlotte of Monaco and Charlotte of Cambridge with her creations.
Dior also called on Madagascar's talent to revisit the iconic Lady Dior. This purse named after the late Lady Diana Spencer is recognized by the big house as its quintessence. This year, it was refashioned by Joel Andrianomearisoa, a Malagasy plastic artist. Bringing honor to his country, the artist signed this masterpiece with his name, while telling a story of his native island.

A model of « Hermès carré » is also produced in Madagascar. This accessory has gone through history and becomes a true fashion icon, this piece of silk with bright colors and detailed patterns is one of the emblems of the great house. It has been worn by crowned heads and biggest stars since the release of the first model in 1937. Worn by Grace Kelly, Jackie Onassis, Brigitte Bardot … the mythical scarf is today a « must-have » for the ultra-codified world of luxury, chic, and glamour.
A sector challenging the crisis
Despite the current health environment that is having a severe impact on the sector, the industry is particularly resilient and crisis-resistant. It is the second largest FDI recipient after the mining sector and accounts for 7% of total FDI. "Present in Madagascar since 1988, textiles have been able to withstand all crises," says Eva Razafimandimby, Executive Director of the Group of Free Zone Companies and Partners (GEFP). "Without the Covid-19 pandemic, we would have gone a long way," she adds.
In response to this crisis, the UK Trade Partnership Program (UKTP) of the International Trade Center (ITC), in cooperation with Madagascar's Ministry of Industry, Trade and Crafts (MICA) and GEFP, is leading an initiative to produce a post-COVID 19 recovery plan study for the textile and clothing sector.
Two consultants (national and international) will develop the post-Covid-19 recovery plan for the textile and clothing sector. Under the supervision of the ITC, UKTP, MICA, and GEFP, the study aims at obtaining quantitative information on the impacts of Covid-19 on the sector. It will also have to provide appropriate answers. Using a mixed-method approach, the consultants will conduct surveys, interviews, and data analyses to fully understand the effects of the health crisis in the sector.
Malagasy talent is exported throughout the world and integrates the highest ranks.
According to the ITC,« The opportunity to produce the post-Covid-19 recovery plan will benefit not only the textile sector but also our domestic industry as a whole. » As the ITC team and Madagascar's partners want to ensure inclusion, other stakeholders such as the World Bank, the International Finance Corporation (IFC), the French Development Agency (AFD), the European Union delegation, the African Development Bank (AfDB), and UN agencies, could join forces to support the post-Covid-19 recovery plan.
The outsourced presence of haute couture houses in Madagascar testifies to the growth of textiles in the country and contributes to the attraction of more and more famous brands. With its human capital, the country is planning a program related to free zone companies that will create 200,000 jobs in synergy with the public and private sectors by 2027.